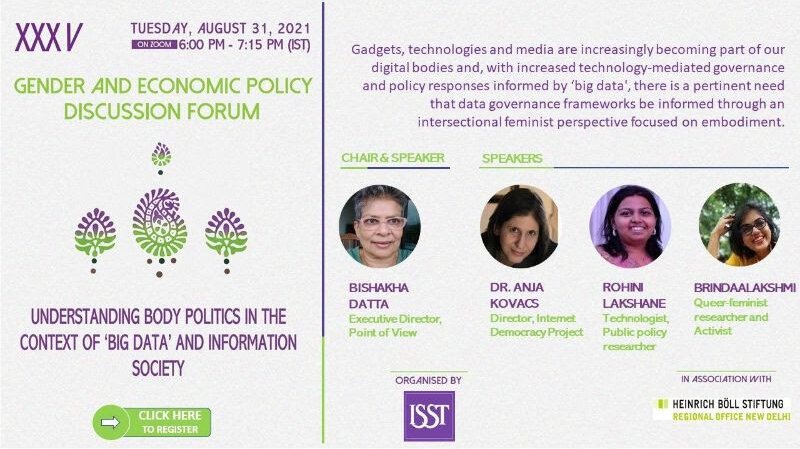 Abstract
This event is the 35th Gender and Economic Policy Discussion Forum, organised by the Institute of Social Studies Trust in collaboration with the Heinrich Böll Stiftung. It is dedicated to understanding body politics through an intersectional feminist perspective focused on embodiment, as gadgets, technologies and media are increasingly becoming part of our bodies and policy and governance are more and more informed by 'big data'. Dr. Anja Kovacs is a speaker.
Gadgets, technologies and media are increasingly becoming part of our bodies and embodiment. Data and technology-mediated governance imposes several threats to our bodies and individual freedoms by continuously encroaching upon multiple spheres of our lives. Moreover, when conceptualized from a disembodied perspective, these systems can strengthen long term social inequalities and deepen identity-based discrimination based on identity markers like race, ethnicity, class, age, gender, ability and sexuality. In the context of the pandemic, with increased surveillance and policy responses informed by ​'big data' that simultaneously aims to protect ​'human bodies' by constraining them and their mobility, it is ever more pertinent that data governance frameworks are informed through a perspective of embodiment.
We aim to understand what it means to reframe our existing data-based governance frameworks through an embodiment lens? How do we begin to talk about ​'body politics' in an age when it becomes difficult to disassociate bodies and technologies? How does a focus on bodily integrity and viewing surveillance from a feminist perspective help bring attention to the gendered outcomes of surveillant technologies? Which gender-transformative interventions could ensure that the rights and freedoms of women and other marginalised genders on their data and their bodies are protected in the digital age? And finally, what could be some strategies and ​'best practices' for civil society organisations to contribute towards an information society that upholds embodied experiences and freedoms for all? These are some of the questions that we hope to address through this discussion forum.
Chair & Speaker: Bishakha Datta Executive Director, Point of View
Speakers:
Dr. Anja Kovacs Director, Internet Democracy Project
Rohini Lakshane Technologist, Public policy researcher
Brindaa Lakshmi Queer-feminist researcher and Activist
UPDATE: The full video of the Discussion Forum is now available here:
The Institute of Social Studies Trust, in collaboration with the Heinrich Boll Stiftung, has been organizing these forums for the last 9 years and 2021 marks the tenth iteration in this series. Every year they organise three to four discussions led by eminent experts who offer fresh unique perspectives on several critical issues pertaining to gender politics. Insights and propositions from these discussions are documented and released in the form of concurrent policy briefs with the aim of producing evidence for policy design and advocacy.
---