Abstract
Data Governance Network's Fifth Quarterly Roundtable, hosted by IDFC Institute is scheduled over 3 days in the month of August 2020. During this period researchers from Internet Democracy Project, IT for Change, iSPIRT, NIPFP and IDFC Institute will debut their latest work.
Researcher Tripti Jain and Radhika Radhakrishnan from the Internet Democracy Project will present their research papers on ​'Tech Tools to Facilitate and Manage Consent: Panacea or Predicament? A Feminist Perspective' and ​'Lived Experiences of Surveillance at the Margins during COVID-19 in India', respectively on 5 and 6 August 2020.
Update: Watch Radhika Radhakrishnan's presentation here
Please find the schedule below: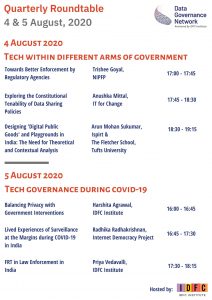 First 2 days of the Data Governance Network Fifth Quarterly Roundtable are open for public participation.
Please RSVP to dgn@​idfcinstitute.​org to confirm your participation.
---